Grassroots: Stories from the Heartland of Ireland
Compiled & Edited by PJ Cunningham
---
This book 'Grassroots' is a treasure trove of memories, tales and incidents spanning over 150 years. With stories dating from before the foundation of the GAA through to the Civil War and up to modern times, the collection reflects the emergence of Irish nationhood in all its guises, from within the country's biggest and most widespread sporting organisation.
The collaboration between the GAA and journalist and author PJ Cunningham elicited an unprecedented response within every county and from the Irish abroad in the USA, UK, Australia and many other countries. The collection includes well-known personalities documenting moments and incidents in their own words.
These include
• Former soccer international Niall Quinn
• Dublin star Keith Barr,
• Meath legends Sean Boylan and Bernard Flynn,
• Galway's All Ireland winning hurling captain Joe Connolly,
• Offaly hurler and RTE commentator Michael Duignan,
• Former Monaghan talisman, Nudie Hughes,
• Ex-Tyrone star John Lynch and
• One-time Armagh player and All Ireland winning manager, Joe Kernan.
The unprecedented collection also includes the work of acclaimed writers such as
• Mae Leonard,
• Dr Joe Kearney,
• Maeve Edwards,
• Billy Keane,
• Dermot Gilleece,
• Declan Bogue,
• Tony O'Hehir,
• Barrie Henriques,
• Brian Jaffray
• and Norman Freeman.
However, the strength of the collection is the depth and variety of stories from ordinary club members recalling happy or sad, dramatic or ordinary occurrences in their day-to- day existence. These stories, many of which would have been lost to the GAA canon, are now very much part of the great legacy preserved for posterity in this book.
A Fly Never Lit
By PJ Cunningham
Then There Was Light

 'Then there was light' is a unique collection of 50 stories by people recalling their memories and experiences of the Rural Electrification scheme which was rolled out in the late 1940s across Ireland.
The stories provide a valuable snapshot of the time Ireland left the dark ages by allowing power and light into the midst of even the most remote communities.
This book and radio documentary coincide with the 70th anniversary of the commencement of the Rural Electrification scheme which began in 1946.
- LATEST RELEASES -

'A Fly Never Lit' by PJ Cunningham
P. J. Cunningham's new book 'A Fly Never Lit' is the third in a trilogy about growing up in the rural Ireland of the second half of the last century. 
'Around the Farm Gate' edited by PJ Cunningham
50 tales of rural Ireland from 50 different authors- the ideal stocking filler this Christmas!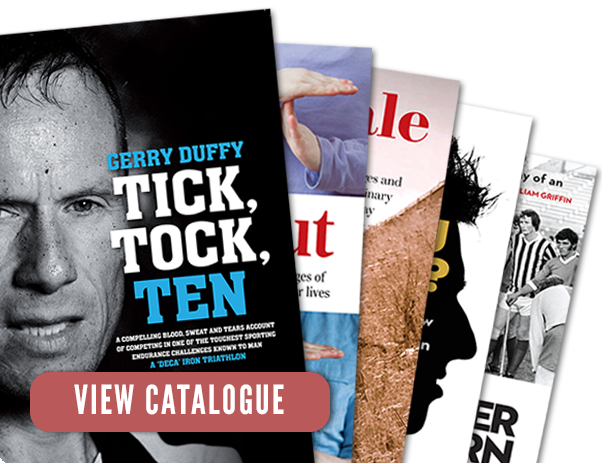 QUALITY WRITING
Alan McLoughlin's 'A Different Shade of Green was nominated for 'Best Irish Sports Book of the Year' at the Irish Book Awards
PJ Cunningham's 'The Long Acre' was shortlisted for 'Best Irish Published Book of the Year' at the Irish Book Awards
BEST SELLER - Enda McEvoy's enduring classic tome 'The Godfather Of Modern Hurling'
Gerry Duffy's book 'Tick, Tock, Ten' was an instant best-seller, following on his first book 'Who Dares Runs'