Share Your GAA Stories!
---
A major drive is being launched to source and publish for the first time GAA stories from the grassroots of the association.
The collaboration between the association and publishers, Ballpoint Press Ltd., aims to gather the most comprehensive
treasure trove of Gaelic-related stories ever compiled in the 136-year history of the GAA.
As well as the four corners of Ireland, stories will also be sought from across the globe, in particular from those who have been GAA frontier people in the USA, UK, Canada, Australia and many other countries. The story gathering will include oral accounts so that all kind of stories can be written down for the first time in book form and also feature in the GAA's archives at Croke Park.
Potential contributors who feel they have a story but may not feel up to writing it can get in touch with Ballpoint Press and
relate their account. It will then be written and sent back for approval before being submitted for final publishing.
The President of the GAA, John Horan, said he welcomed the exploration through the GAA grassroots to find the diversity of stories that undoubtedly exist there.
"The grassroots is the lifeblood of our organisation and it is timely that that such an undertaking is finally going ahead. I'm delighted because it means that there will be a permanent home for these stories in both book form as well in our own
GAA archive section."
Well-know journalist and author, PJ Cunningham, will spearhead the undertaking alongside GAA Communications
Director, Alan Milton. Mr Cunningham said it had been an ambition of his for many years to bring what he believes is the "great legacy of GAA stories" together under one roof.
"GAA is a way of life for most Irish people at home and abroad. It is packed with diverse stories from on and off the pitch. I grew up listening to them and enjoying their retelling but the reality is that many of these stories exist only in word of mouth form.
"At present we all have a bit more time to commit such stories to paper so that they can be preserved for future generations."
"Ideally the stories should have their own unique selling point rather than just normal accounts of winning or losing matches. They can also include inter-county fare and personnel because it is the grassroots people who gather in large numbers to support those encounters. "Basically we are interested in any story from 1884 onwards to
the present day that has a special, novel or unusual twist to it," he said.
For further information on how to get in touch see details on pj@gaastories.ie or communications@gaa.ie marked 'GAA
Stories'
Or post can be sent to GAA Grassroots stories:
Ballpoint Press
4 Wyndham Park,
Bray,
Co Wicklow.
Phone number PJ – 086-8217631
Damien O'Reilly goes Country Wide with his Farmers Journal columns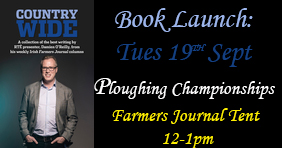 Damien is the award-winning presenter of the popular Saturday morning RTE Radio 1 show – Countrywide. Allthough brought up in Castleknock, Co Dublin, he is the son of country parents and spent all of his holiday time as a young boy and teenager on his father's family farm in Ballyjamesduff, Co Cavan. From there, he inherited an interest and love of all
things rural which persists to this day.
Damien also writes an opinion column – 'Damien's Diary – in the Country Living section of the Irish Farmers Journal every week.
This book is a collection of his writings for the Journal as well as recalling how a city boy grew up to become a commentator the affairs of country life.
The book is being launched on Wednesday October 4 at Copper Face Jack's in Harcourt St, Dublin (7pm) by Marty Morrissey.
Then There Was Light

 'Then there was light' is a unique collection of 50 stories by people recalling their memories and experiences of the Rural Electrification scheme which was rolled out in the late 1940s across Ireland.
The stories provide a valuable snapshot of the time Ireland left the dark ages by allowing power and light into the midst of even the most remote communities.
This book and radio documentary coincide with the 70th anniversary of the commencement of the Rural Electrification scheme which began in 1946.
- LATEST RELEASES -

'A Fly Never Lit' by PJ Cunningham
P. J. Cunningham's new book 'A Fly Never Lit' is the third in a trilogy about growing up in the rural Ireland of the second half of the last century. 
'Around the Farm Gate' edited by PJ Cunningham
50 tales of rural Ireland from 50 different authors- the ideal stocking filler this Christmas!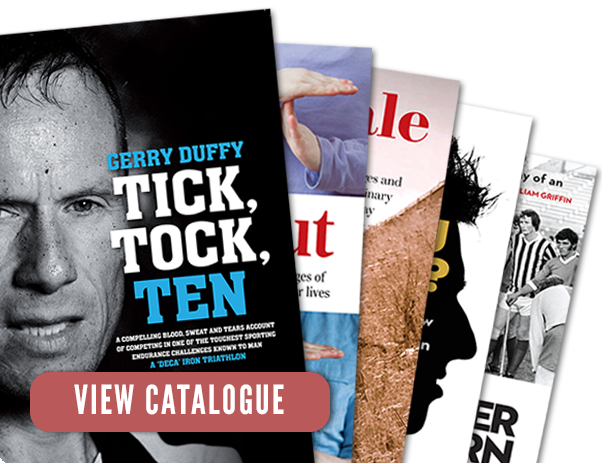 QUALITY WRITING
Alan McLoughlin's 'A Different Shade of Green was nominated for 'Best Irish Sports Book of the Year' at the Irish Book Awards
PJ Cunningham's 'The Long Acre' was shortlisted for 'Best Irish Published Book of the Year' at the Irish Book Awards
BEST SELLER - Enda McEvoy's enduring classic tome 'The Godfather Of Modern Hurling'
Gerry Duffy's book 'Tick, Tock, Ten' was an instant best-seller, following on his first book 'Who Dares Runs'