IDEAL PRESENT FOR NOW... AND FOR CHRISTMAS!
Compiled & Edited by PJ Cunningham
---
GAA book 'Grassroots – The Second Half'
Want To Buy A Copy Now? –  click here
Price: €19.99
Due Date: In all good bookshops from September 21, 2022
Ballpoint Press is proud to announce the arrival of its compelling new GAA book written by those at the heart of the sport.
'Grassroots: The Second Half' is a gold mine of GAA tales spanning over 150 years and follows the publication of a successful first volume last year.
"The GAA and I were astounded by the response to the first edition," said book editor PJ Cunningham, who collaborated with Croke Park on both publications.
"This collection is slightly different to the first in that as well as having the usual stories from the deep roots of rural society, there are also numerous stories where people from other sports and walks of life talk of their GAA experiences," he said.
Former Irish rugby international Ollie Campbell, ex-snooker world champion Ken Doherty and Vienna-based opera singer Tom Birch, all explain how they became big fans of Gaelic games.
"Virtually no subject escapes in the 400 pages, with tales of a parish priest's curse, referees officiating with watches which didn't work to players taking 'leaks' on the field of play," said Cunningham.
GAA President Larry McCarthy said the book highlighted "the value of the folklore and stories built up around our games."
"What these two Grassroots books do is ensure they become available to a wider audience as most, if not all, of these stories are being published for the first time," he said.
Grassroots: The Second Half, priced at €19.99, is available now nationwide and  here at: www.ballpointpress.ie. 
The unique collection includes stories from such acclaimed writers such as Mae Leonard,
Malachy Clerkin
Dr Joe Kearney,
John B Keane
Barrie Henriques
Gerry McLaughlin and
Norman Freeman
A Fly Never Lit
By PJ Cunningham
Then There Was Light

 'Then there was light' is a unique collection of 50 stories by people recalling their memories and experiences of the Rural Electrification scheme which was rolled out in the late 1940s across Ireland.
The stories provide a valuable snapshot of the time Ireland left the dark ages by allowing power and light into the midst of even the most remote communities.
This book and radio documentary coincide with the 70th anniversary of the commencement of the Rural Electrification scheme which began in 1946.
- LATEST RELEASES -

'A Fly Never Lit' by PJ Cunningham
P. J. Cunningham's new book 'A Fly Never Lit' is the third in a trilogy about growing up in the rural Ireland of the second half of the last century. 
'Around the Farm Gate' edited by PJ Cunningham
50 tales of rural Ireland from 50 different authors- the ideal stocking filler this Christmas!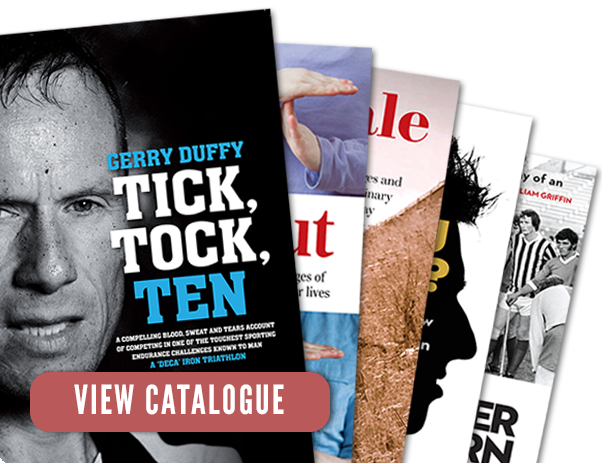 QUALITY WRITING
Alan McLoughlin's 'A Different Shade of Green was nominated for 'Best Irish Sports Book of the Year' at the Irish Book Awards
PJ Cunningham's 'The Long Acre' was shortlisted for 'Best Irish Published Book of the Year' at the Irish Book Awards
BEST SELLER - Enda McEvoy's enduring classic tome 'The Godfather Of Modern Hurling'
Gerry Duffy's book 'Tick, Tock, Ten' was an instant best-seller, following on his first book 'Who Dares Runs'